From The Guardian
Save the Children says risk to health 'extremely serious' as country struggles to recover from earthquake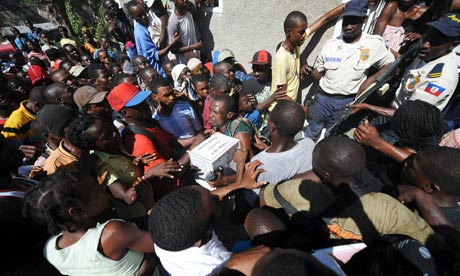 Aid is distributed to Haitian earthquake survivors. Photograph: Jewel Samad/AFP/Getty Images
Children have been badly affected by the earthquake that brought devastation to Haiti in January.
Save the Children says an estimated 1 million children have become separated from their parents or lost one or both parents.
Haiti is the poorest country in the western hemisphere, with one in 13 children dying before their fifth birthday and 9% suffering from acute under-nutrition.
Save the Children said the risk to children's health is "extremely serious".
"Children are the most vulnerable when disease starts to spread, and the sanitation situation in many of the makeshift settlements is a secondary disaster waiting to happen," it said in a statement.
"An increase in diarrhoea, scabies and ringworm has already been noted."
The charity warned that abuse and exploitation of children could increase – one-fifth of children in Haiti were working before the quake. Children who have been separated from their families are at risk of sexual exploitation and of being trafficked.
Thousands of schools have been flattened, and the government said the education system had "collapsed".
Click HERE to see the Original Article