By Ed Pilkington, The Guardian
UN Relief Chief John Holmes says rains present 'very big challenge' because of possible flooding and spread of disease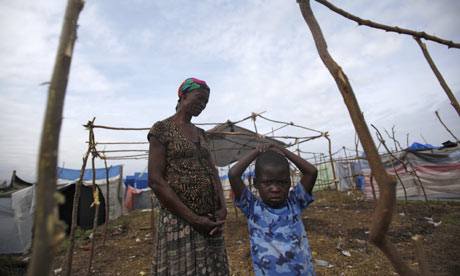 A woman and her child in a Port-au-Prince slum. Photograph: Esteban Felix/AP
John Holmes, the British diplomat who heads the UN's disaster relief programme, has called for a huge increase in the provision of shelter and sanitation in Haiti before the arrival of the rainy season in a few weeks.
Holmes, who is chief of the UN office for the co-ordination of humanitarian affairs, said the rains presented a "very big challenge" because of possible flooding and spread of disease.
The UN has identified about 20 locations that pose a danger in the capital, Port-au-Prince, which was worst hit by the 12 January earthquake. Some areas are at risk of catastrophic flooding. Others are on steep slopes, where makeshift homes would be washed away.
The sites include a golf club in the Pétionville area of the city which the US military used as a base to distribute food and water at the start of the disaster, and the main square in front of the presidential palace, where thousands are living in overcrowded and insanitary conditions.
Up to 150,000 people are thought to be living in these danger points, and about half of them need to be moved. To prepare for this, the UN is trying to speed up the clearance of rubble to make way for tent cities designed to cope with the rains.
Holmes said it would not be easy to shift such large numbers in time. "Even if we had some big sites outside Port-au-Prince – which we don't – it might be difficult to persuade people to move," he said.
A further challenge could strike as early as June with the hurricane season. Holmes said the UN was scrambling to provide temporary housing for 1.2 million Haitians thought to be homeless, in the form of tin-roofed wooden structures anchored to the ground. "Plastic or tarpaulin roofs are not going to do the business if there's a direct hit by a hurricane," he said. The UN hopes to have up to 100,000 such homes constructed by June.
Click HERE to see the Original Article