This article describes the hearing that took place on October 23, 2014 in the ongoing case against the UN for its negligent introduction of cholera to Haiti in 2010. It notes that the resulting epidemic, which is ongoing, is the worst in recent history. In spite of this, the US government argued in US federal court that Judge J. Paul Oetken should dismiss the lawsuit on grounds of UN immunity, asserting that such immunity is absolute. Arguing on behalf of plaintiffs, Beatrice Lindstrom, IJDH Staff Attorney, maintained that the UN should not be able to assert immunity when it has refused to set up a process whereby victims could file claims and access a remedy. The US Government argued that the only time the UN can be hailed to court is when it expressly waives its immunity. A decision by the judge will be issued at a later date.
Part of the article is below. Click HERE for the full text.
US urges dismissal of Haitian group's cholera lawsuit against UN
The Guardian
October 23, 2014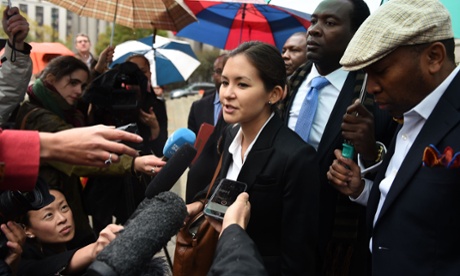 The US government urged a federal judge on Thursday to dismiss a lawsuit filed against the United Nations by a group of Haitians who claim peacekeepers caused the devastating cholera epidemic that followed their country's 2010 earthquake.
Ellen Blain, a lawyer for the Justice Department, told US district judge J Paul Oetken in New York that the lawsuit, filed in 2013, should be thrown out because the United Nations is "absolutely immune" from such claims.
The cholera epidemic, the worst in recent history, has killed 8,500 people and sickened more than 700,000 since October 2010.
A panel appointed by UN secretary general Ban Ki-moon issued a 2011 report that did not conclusively determine how the disease, which had not been documented in Haiti in nearly a century before the outbreak, was introduced to the country. The Centers for Disease Control and Prevention (CDC) said the evidence strongly suggested UN peacekeepers were the source.
…
Blain said the language of the convention is clear.
"The United Nations is absolutely immune absent an express waiver," she said.
A United Nations spokesman declined to comment on the case at a news briefing on Thursday.
Oetken did not say when he would rule.
Click HERE for the full text.