Local police in the Dominican Republic claim that two Haitian men confessed to the lynching of a young Haitian man in DR last week. Human rights groups assumed the lynching was racially motivated, in line with recent increased tensions between Haiti and DR. Dominican police, however, dismissed any racial motives right away. The author of this article was unable to reach the police for comment after this latest development.
Click HERE for the original article.
Dominican Authorities Arrest 2 In Case Of Hanged Haitian
Roque Planas, The Huffington Post
February 18, 2015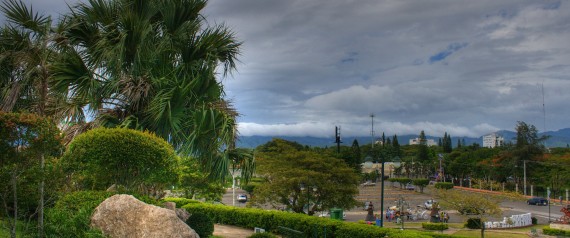 Police in the Dominican Republic have arrested two people accused of strangling a Haitian man to death and hanging his corpse in a public park in the country's second-largest city of Santiago, local media report.
The hanging of the Haitian migrant, who police identified as Jean Claude Harry, 23, occurred against the backdrop of a racially charged immigration and citizenship debate in the Dominican Republic. But the arrests cast doubt on whether those tensions played a part in the killers' motivations, as both suspects arrested are also Haitian, according to Dominican daily Listín Diario.
Dominican authorities have yet to reveal the suspects' names, but local police say that the suspects confessed to killing Harry to take 2,000 pesos — about $45 — that a woman had paid him to help move furniture and other items from the home of a different 70-year-old woman who was found strangled last week, Listín Diario reports.
The arrests came days after the head of the national police, Major General Manuel Castro Castillo, discarded robbery as the motive in the crime.
"It wasn't robbery," Castro Castillo said Friday, according to Dominican daily Hoy. "Judging from the characteristics of the incident, several people were involved because first they strangled him and then they hanged him."
The national police did not respond to an email request to speak with Castro Castillo. Attempts to reach Damian Arias Matos, a police spokesman in Santiago, were also unsuccessful.
Several human rights organizations had initially raised concerns that the killing might have been connected in some way to ongoing tensions sparked by the Dominican government's recent moves to strip thousands of Haitian descendants of citizenship in the country.
A series of legal changes since 2004 have done away with birthright citizenship in the Dominican Republic. The country's constitutional court applied the new standard retroactively in a 2013 decision.
Facing international criticism over the issue, Dominican legislators passed a law last year that returned citizenship to some Dominicans of Haitian descent, while creating a pathway to legal residency for others. Human rights organizations including Amnesty International criticized the law as insufficient, however, and faulted the government for doing too little outreach.
Fewer than 9,000 people applied to normalize their status before the Jan. 31 deadline, according to El Día, though Amnesty International says as many as 110,000 qualified.
Click HERE for the original article.