Last month, the United Nations came under fire for suspending an employee who allegedly breached protocol in sending a report to the French government. This report details sexual abuse of children by French peacekeepers in the Central African Republic and many suspected that the UN suspended the employee because it didn't want this information to become public. Now, an appeal tribunal has ordered the UN to lift the suspension, which the court deems "unlawful."
Part of the article is below. Click HERE for the full text.
UN suspension of sexual abuse report whistleblower is unlawful, tribunal rules
Sandra Laville, The Guardian
May 6, 2015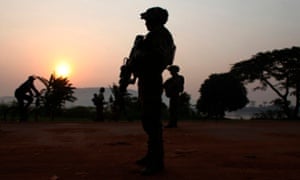 An appeal tribunal has ordered the United Nations to immediately lift the suspension of a whistleblower who disclosed the alleged sexual abuse of children by peacekeeping troops in Africa to the French authorities.
A judge said on Wednesday the decision to suspend Anders Kompass, the director of field operations for the Office of the High Commissioner for Human Rights, was "prima facie unlawful". He ordered his employers in the UN to lift his suspension immediately to prevent further damage to his reputation.
The decision is a blow to senior UN officials who have repeatedly defended their treatment of Kompass, claiming he breached strict protocols about the passing on of confidential information to outside authorities.
Kompass leaked an internal UN report on the alleged sexual abuse of children by French troops in Central African Republic to French prosecutors last summer. The French immediately mounted an investigation and revealed last week they were investigating up to 14 soldiers for alleged abuse. The French authorities wrote to thank Kompass for passing on the internal report detailing the abuse, the Guardian has revealed.
…
Click HERE for the full text.