During the month of January 2016, IJDH director Brian Concannon taught a week-long, 1 credit course called Human Rights Advocacy: How and Why at Whitman College. The liberal arts format course was focused on NGO accountability, the disturbance caused by foreign NGOs in Haiti after the earthquake in 2010 and the necessity for sustainability in foreign intervention. In addition to the course he taught, Concannon also delivered a public lecture on the deportation of Haitians and Dominicans of Haitian descent from the Dominican Republic.
Part of the article is below. Click HERE for full text.
Haiti expert and human rights lawyer Brian Concannon leads timely seminar at Whitman
Gillian Frew, Whitman.edu
February 8th 2016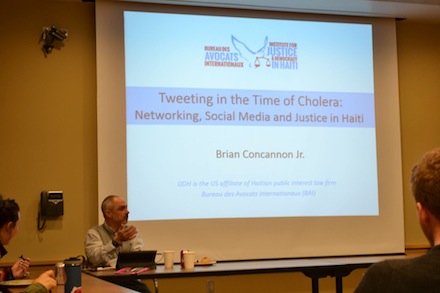 This year is off to a turbulent start for the small island nation of Haiti, site of a deadly 2010 earthquake and subsequent cholera epidemic. As the deadline to elect a new president officially passes, protests in the capital of Port-au-Prince persist and a runoff election scheduled for late December has been postponed twice.
It's a complex and ever-shifting situation, but someone who knows all about it is Brian Concannon, Jr. He's an international human rights lawyer and activist based in Boston, who also serves as director of the Institute for Justice & Democracy in Haiti, a group that drew attention for attempting to sue the United Nations for their role in inadvertently introducing cholera into the country.
In the past year, Concannon has been quoted in The Boston Globe, The Los Angeles Times, The Miami Herald and PRI, among other news outlets reporting on the ongoing crisis. In late January, he took up a brief residency at Whitman as an O'Donnell Visiting Educator, offering a one-credit course called Human Rights Advocacy: How and Why.
….
Click HERE for the full text.