On March 1st, the New York Appeals court heard IJDH's case on behalf of the victims of the deadly cholera epidemic brought to Haiti by UN troops. The appeal contested the absolute immunity that was invoked to defend the UN when the case was dismissed at first in January 2015. IJDH staff attorney Beatrice Lindstrom was pleased with regards to the process of the hearing, as the three judges of the appeals court seemed engaged with the argument and posed very pertinent questions regarding UN accountability to the assistant US Attorney Elle Blain, who argued on behalf of the UN. No UN representatives spoke at the hearing.
Part of the article is below. Click HERE for the full text.
Appeals Court Hears Arguments on Cholera Reparations
Kim Ives, Haiti Liberté
March 2, 2016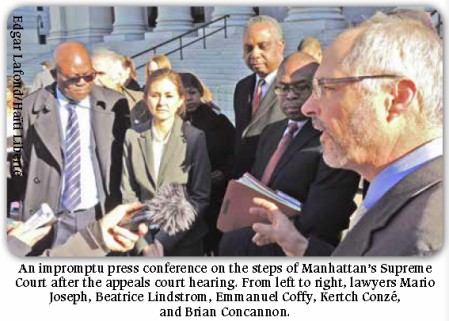 On Mar. 1, 2016, the U.S. Appeals Court in New York heard oral arguments on whether the United Nations has immunity from a class action lawsuit charging its soldiers negligently dumped their sewage into Haiti's largest river, thereby unleashing the world's worst cholera epidemic.
In October 2010, an outpost of Nepalese blue-helmets, several scientific studies have found, allowed feces from their outhouses to flow into the headwaters of the Artibonite River, which is used for drinking, washing, and irrigation of Haiti's rice fields. As a result, over the past five and half years, close to 10,000 Haitians have died from the fecally-transmitted cholera bacteria, and close to 900,000 have been sickened.
On Jan. 9, 2015, Judge J. Paul Oetken dismissed the claims made by lawyers from the Boston-based Institute for Democracy and Justice in Haiti (IJDH) and the Port-au-Prince-based Office of International Lawyers (BAI) on behalf of Haitian cholera victims and their families in the case known as Georges vs. United Nations. Despite vigorous arguments from the IJDH that its clients and Haitians in general had no other recourse to justice and compensation for the injuries they've endured, Judge Oetken found that "the United Nations, [the UN military occupation force] MINUSTAH, [UN Secretary General] Ban Ki-moon, and [then MINUSTAH chief] Edmond Mulet are absolutely immune from suit in this Court."
[…]
Click HERE for full article.