Jane Regan and Milo Milfort, The Final Call
March 19, 2013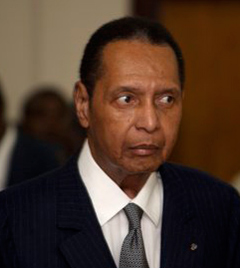 PORT-AU-PRINCE (IPS)—For the first time ever, Haiti's former dictator recently faced his accusers, answering questions about corruption and human rights abuses during his brutal 15-year regime (1971-1986).
The court of appeals hearing was part of a process that will determine if he is to be indicted on rights abuses.
"We think that this is a wonderful day for justice in Haiti," rights attorney Nicole Phillips of the Washington-based Institute for Justice & Democracy in Haiti (IJDH), told IPS. "For the first time…and despite the efforts of his attorneys, Jean-Claude Duvalier came to court."
The ex-dictator showed up on Feb. 28 only after first disregarding three previous orders.
The sweltering courtroom was packed with over a dozen victims of the regime and with local and foreign journalists, lawyers and representatives of human rights groups.
After his lawyers failed to convince judges to hold a closed session, for four hours the sickly looking 61-year-old, dripping with perspiration, answered judges' questions and accusations, whispering his evasive and oft-flippant denials to the clerk who read them aloud.
A group of aging supporters of the 29-year (1957-1986) regime of "Baby Doc" and his father François "Papa Doc" Duvalier applauded the former despot's more irreverent answers.
When Judge Jean-Joseph Lebrun asked Mr. Duvalier about murders and executions during his rule, the ex-dictator responded: "All countries have murder."
"Were there political prisoners in Fort Dimanche?" the judge asked about the prison known as "Haiti's Auschwitz," where an estimated 3,000 prisoners were executed or died of hunger and disease.
"Fort Dimanche was full of all kinds of delinquents," Mr. Duvalier replied.
At one point Mr. Duvalier even claimed, "In every domain, I have a good record" and even tried to turn the tables.
"Everything was going well when I was here. When I came back (in 2011), I found a broken and corrupt country. I should ask you, what have you done with my country?" he asked.
Human Rights Watch estimates that between 20,000 and 30,000 people were killed during the reigns of "Baby Doc" and his father. Rights groups also documented torture, rapes, forced exiles and forced disappearances during both regimes.
Among those seated in the space reserved for victims was Robert "Boby" Duval, a former Fort Dimanche prisoner.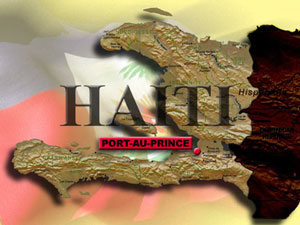 When asked by judges, Mr. Duvalier claimed Mr. Duval had been arrested for "subversive activities" and "weapons possession," saying the then-young businessman had been "well-treated" in prison.
"A member of his family brought him food three times a day," Mr. Duvalier maintained.
"I didn't have any weapons," a visibly angry Duval later told IPS. "He told a lot of lies about me."
"He sent me to Fort Dimanche, forcing me to drop to 90 pounds," continued the now burly ex-soccer player, who spent 17 months in prison in 1975 and 1976, eight of them in Fort Dimanche. "They gave us 300 calories a day … They jammed 40 people into a four-by-four meter cell. Two or three people died every day."
The judges also asked Mr. Duvalier about the accusations of corruption and embezzlement. Experts estimate "Baby Doc" stole at least $300 million.
Asked if he still had money in foreign accounts, Mr. Duvalier replied "no," even though at least $4 million is in a frozen Swiss account.
While life in much of the country proceeded much as usual, outside the makeshift courthouse, several dozen aging Duvalier supporters dressed in red and black—the colors of the former regime—chanted "Long live Duvalier!" and "Duvalier, this is your country, do whatever you want!"
On the radios, and online, Haitians and Haiti-watchers stayed abreast of the proceedings through Tweets, photos and videos sent out by journalists, lawyers and human rights advocates.
Haitian journalist Rachèle Magloire sent out quotations every minute or so, at one point tweeting out that Mr. Duvalier said, "I am the son of a great nationalist. If it weren't for me, the country would have fallen into civil war." Another journalist tweeted from the room: "Duvalier supporters clamoring" while a correspondent abroad noted: "Extraordinary day in Haiti."
The hearing ended at about 3:30 p.m. and was continued March 7, when others testified.
The session is part of an appeal by regime victims who filed a complaint against the former dictator in 2011 for crimes against humanity. In January 2012, a judge rejected the charges, citing Haiti's 10-year statute of limitations on murder as one reason. The ruling was condemned by local and international rights groups, and by the UN High Commissioner for Human Rights.
The Bureau of International Lawyers, one of the groups representing the victims, noted that the Inter-American Commission on Human Rights, Amnesty International, and Human Rights Watch all say the abuses under Duvalier rule constitute crimes against humanity.
"These crimes cannot be barred by any statute of limitations pursuant to international law that is binding on Haiti. As a matter of law, the Court of Appeals must grant the victims' appeal and allow Duvalier to stand trial for both his political violence and fraud crimes," BAI attorney Mario Joseph said in a statement following the Feb. 28 hearing. "Given the events today, we are hopeful this court will issue a fair decision."
Two men testified before a three-judge appeals panel Thursday that they were imprisoned in ghastly conditions for months without charge under the government of former dictator Jean-Claude Duvalier.
Agronomist Alix Fils-Aime described his time at the Fort Dimanche prison in the 1970s, saying most of the people held with him were tortured and killed.
"I was able to hear people being beaten, dragged in the hallway, and I could hear women screaming as they were being forced to have sexual relations with the guard,'' he said.
Mr. Duvalier surprised many in Haiti a week ago when he showed up in court to defend his past government following three earlier no-shows. The court had called on Duvalier to be available for further questions, but he didn't show up March 7. His main attorney said this week that the 61-year-old had checked into a hospital for an unspecified illness. The appeals court is to hear more testimony March 14.
(Associated Press contributed to this report.)
Click HERE to see the Original Article