The night of October 22, a spontaneous demonstration broke in Port-au-Prince because of the wrongful detention of Haitian political activist attorney Andre Michel.  Below are articles about the situation.
Cliquez ICI pour des articles en Français.
Haiti: Protests Abound after Arrest of Human Rights Lawyer Andre Michel
The Sentinel Staff, The Sentinel
October 22, 2013
PORT-AU-PRINCE, Haiti (sentinel.ht) – Disorder is prevailing as a crowd has amassed in the streets of Port-au-Prince after police conducted on Tuesday evening the arrest of the Human Rights Lawyer André Michel, who has pursuing a corruption suit against First Lady Sophia Martelly and her son Olivier. The latest information says agents of CIMO have barricaded the police station to not allow anyone to enter, journalists or citizens, the premises. After parking his car near police sub-station in Martissant, police struggled to take Andre Michel from his car, where he defied to leave without the presence of his lawyer and was supported by a crowd which protested vehemently chanting against the Martelly administration. A large detachment of police was deployed to the scene and fired tear gas to disperse the crowd and carried "with force" the lawyer to Port-au-Prince, according to witnesses. Several personalities, including leaders of human rights organizations have mobilized to provide support to the lawyer in trouble. "This is an arbitrary act, since the constitution prohibits arrests to be carried out after 6:00 in the evening," complained the director of the National Network for the Defense of Human Rights (RNDDH), Pierre Esperance, interviewed by AlterPresse. Lawyer Samuel Madistin, described the arrest of lawyer André Michel as a "kidnapping." Turneb Delpé, leader of the opposition group MOPOD, said he was "worried about the life of André Michel." In August, Mr. Michel had escaped an attempted arrest by Judge Lamarre Belizaire, who was irregularly sworn in as a job and is accused of executing a number of political arrest. Belizaire also has a personal matter with Michel having accused Michel of firing shots at his home. For the aforementioned act, on July 25, Judge Belizaire issued an arrest warrant against André Michel in a murder case of a young college student 31 years old named Frantzy Duverseau who was shot by police. Michel was the lawyer representing Enold Florestal who called the police. Florestal, who filed a complaint against the presidential family for corruption and misuse of the title, he himself was arrested in August. Many consider this to be a gross political arrest. Florestal was in the hospital bed when police shot Duverseau.
Click HERE for original article.
Haiti arrests key anti-corruption lawyer
Prominent attorney reportedly detained after launching corruption charges against family of country's president.
Al Jazeera
October 23, 2013
Haitian officials and reporters say police have detained a prominent attorney who launched corruption cases against the family of President Michel Martelly. Senate leader Simon Dieuseul Desras has called for an emergency session of legislators to discuss Andre Michel's arrest, which sparked protests in the capital Port-au-Prince on Tuesday. Michel had initiated legal proceedings against the wife and eldest son of the country's president before his detainment. Reporters for privately owned Radio Caribe say they witnessed police officers detaining the lawyer on Tuesday evening.
Click HERE for full article.
Haiti Attorney on Corruption Cases Detained
Trenton Daniel, AP
October 23, 2013
PORT-AU-PRINCE, Haiti (AP) — A prominent attorney who has brought corruption cases against Haiti's government has been detained, prompting protests from politicians and demonstrations in the streets. As Andre Michel waited for a hearing before a judge on Wednesday, supporters broke into the office where he was being held and pushed him past police and security guards to another office near the courthouse. Authorities did not immediately react to the supporters' actions, and reporters did not have access to the location where Michel was taken. While prosecutors had not said publicly why Michel was arrested, Marie Yolene Gilles, assistant program director of the National Human Rights Defense Network, said she saw the police record against Michel and said he was stopped because of a minor traffic violation.
Click HERE for full article.
Demonstrators Surround Police Station as Prominent Regime Critic Arrested
Kim Ives, Haïti Liberté
October 23-29, 2013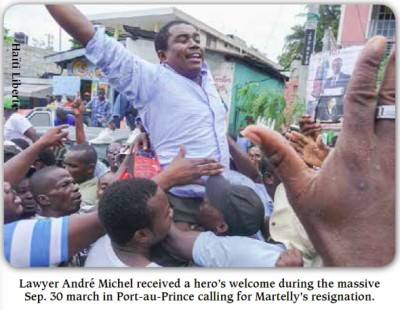 Over 1000 people massed in front of a police station in the Martissant section of Port-au-Prince on the evening of Oct. 22 as police encircled the car of outspoken lawyer André Michel, who was stopped while driving nearby shortly after 6 p.m.
Just before 10 p.m., the police removed Michel from his vehicle, smashing its windows, his lawyer Newton St. Juste said. Mr. Michel was then taken into the police station, as CIMO riot police fired teargas and shots in the air to disperse the angry crowds outside. At midnight, Mr. Michel was still being held in the station with clusters of protestors regathering on some street corners, despite the lingering teargas. Last year, Mr. Michel brought a suit against President Michel Martelly and his family for corruption. Shortly thereafter, the government issued a warrant for Mr. Michel's arrest, accusing him of involvement in the 2010 killing of a student, Frantzy Duverseau. The victim's father, Ovil Duverseau, who was a witness to the incident, has publicly said that Mr. Michel was not responsible in any way for his son's death. Instead, Mr. Duverseau blames Martelly's police force for his son's fatal beating following an altercation.
Click HERE for full article.
Arrest of Haiti government critic triggers protests
Jacqueline Charles, Miami Herald
October 23, 2013
The political climate was tense in Haiti's capital Wednesday as scores of demonstrators and opposition lawmakers protested the arrest of a prominent attorney leading a corruption case against the first family. Protestors showed up at the downtown Port-au-Prince courthouse where André Michel, a lawyer and government critic, was scheduled for an appearance after his arrest Tuesday night. Michel was accused of obstructing justice after refusing to allow police and the district attorney to search his car. His arrest, well after a 6 p.m. constitutionally-mandated cutoff for arrests not related to immediate criminal events, triggered protests and accusations that Haiti had re-reentered a dictatorial era. "Once again the executive has continued with its flagrant violation of the Haitian Constitution,'' said Sen. Francky Exius. As protestors denounced Michel's arrest, President Michel Martelly shared a brief phone call with U.S. Vice President Joe Biden Wednesday afternoon. A White House statement made no mention of the demonstrations, which earlier in the day triggered a warning from the U.S. Embassy in Port-au-Prince about rock throwing near the presidential palace. The conversation, instead, focused on Haiti's long delayed legislative and local elections, according to the White House. The statement said Biden "welcomed President Martelly's commitment to continue working to further strengthen Haiti's democratic institutions, including by maintaining a strong and independent legislative branch." "The Vice President commended President Martelly for his efforts to work with the Haitian parliament and political parties to resolve outstanding issues," and support the work of an electoral council charged with setting a date to hold elections.
Click HERE for full article.